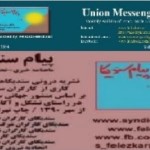 We are starting the 6th year of the 'Message of Syndicate', the only workers' periodical in Iran at a time that the labour news is at its forefront.  It has taken the efforts of many people to develop the 'Message of Syndicate' from brother Saleh to Millad. Step by step this publication became a voice of justice for the workers and has deepened its worker character.
There are a number of the so called Workers Publications in our country. However given the negative way the workers perceive these publication and the huge resources spent on them, it is a sorry affair. Apart from giving news about the level of production in corporations and praising the companies' managements, these publications are void of any beneficial piece of writing that covers the workers' issues and demands. In one of these [labour] bulletins called 'Karamad' there used to exist a column in which the workers could raise some aspects of of their problems. But after continuous workers' strikes, protesting against their wages, this column was eliminated from 'Karamad' and the bulletin became just a pamphlet for admiring the management and their actions.
However the [independent] trade unions circulate 3 publications, 'The Message of Syndicate', both in Farsi and in English languages, along with 'Peyk-e-Sandyca' which is an internal publication of the Syndicate of the Workers of Tehran and Suburbs Vahed Bus Company. These 3 publications focus on reflecting the workers' problems. They are well received by the workers and are produced by the funds and technical management of trade unionists and worker activists.
Friends of the trade unions can read the above mentioned publications by referring to the websites of the Union of Metalworkers and Mechanics of Iran and the Syndicate of the Workers of Tehran and Suburbs Vahed Bus Company to get information about workers' issues and the struggles that these trade unions are involved in.
As we approach the dawn of the 6th year of producing 'The Message of Syndicate', we thank all those inside and outside Iran that have helped us and been involved in spreading the ideas of workers trade unions.
Message Of Syndicate- Issue 41
October 2015