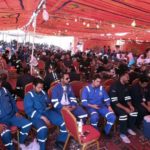 In Solidarity with the members and leaders of the Oil and Petrochemical Workers' Confederation
On Sunday 17th April we received reports of recent attacks by the state-owned Kuwait Petroleum Company (KPC) and the government of Kuwait against workers in the oil sector in that country and their union, the Oil and Petrochemical Workers' Confederation (OPIWC).
According to information passed to us, the alarming sequence of events has been as follows. In pursuance of its austerity, cost-cutting programme, the government of Kuwait is seeking to implement 'Strategic Alternative' measures on public sector workers, including oil workers whose sector falls outside the scope of the proposed legislation.  As part of this drive, new regulations are being imposed unilaterally which will cut oil workers' wages, remove longstanding benefits and pose a serious threat to jobs. This has taken place without consultation with the OPIWC. After OPIWC talks with the KPC and acting Oil Minister of Kuwait aimed at halting this implementation broke down, the OPIWC called a special congress, which decided on 11 April on indefinite strike action.  The strike, which was democratically and legally initiated, began on 17 April with thousands of oil workers participating. The Kuwaiti government has subsequently responded not by addressing the legitimate demands of the workers concerned and their unions but by arresting the leadership of the OPIWC, declaring the strike illegal, implementing a campaign of intimidation against trade union activists involved in the action and moving to dissolve the OPIWC itself.
We find the above actions of Kuwaiti government and the KPC deplorable. The Union of Metalworkers and Mechanics of Iran and the Union of Project (Contract) Workers rejects absolutely the Kuwaiti government's imposition of the Strategic Alternative public sector austerity programme and its failure to engage in meaningful consultation and negotiation with the OPIWC. UMMI and the Union of Project (Contract) Workers therefore call on the government of Kuwait and the KPC to take the following actions with immediate effect:
Release all detained trade union leaders and activists.
Enter into negotiations with the OPIWC to address the legitimate demands of its members
Exempt the oil sector from the scope of the 'Strategic Alternative' programme
Halt the implementation of regulations that will detrimentally affect the rights of workers under current labour law, regulations and agreements.
Guarantee that any future proposed changes to the above will only be undertaken with full consultation and agreement with the unions
Allow trade unions in Kuwait to operate freely in pursuit of the interests of their members as guaranteed in by national and international agreements, including the conventions of the International Labour Organisation (ILO) to which the government of Kuwait is a signatory.
The Union of Metalworkers and Mechanics of Iran
The Union of Project (Contract) Workers
19th April 2016