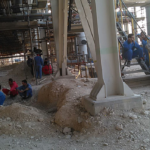 The workers at the Bushehr Petrochemical Complex, South Pars, Asalouyeh, continued the 5th day of their strike on the morning of the Friday December 9th and with strong fury demanded a resolution to their pay issues. On the same day, the vice-manager of the site and the executive supervisor threatened to black list and dismiss the workers. The workers received the pink slips but said that they would sign the slips only after their pay and benefits are paid.
However, on Saturday they were told to go back to work and that "we don't know when your pay will be deposited to your accounts." The workers did not return the pink slips and firmly said that they only wanted their money and will not sign the dismissal slips, and were somewhat successful. But with the mediation by the conscious experienced workers, these concerns were resolved and all of the workers were re-united again to fight for their pay.
The workers' question is: where does all the money from selling the oil, gas, and other oil products from the South Pars – Asalouyeh go, and how and why is that we don't get nothing? It is really shocking. What are our government officials doing? Have they not studied economics so they could be at the service of the public interests of their own country and people? What is they objective and what do they want? The objective that ends in poverty, misery, and perplexity of the people, is not a true objective.
The objective of us, the workers, is the growth of ourselves, our families, and our society. We will not be nice to anyone who reaches in our pockets and steals from our food table. We will be enraged at them and will demand our pay. I hope that the workers of Iran will learn and acquire the necessary education and audacity in order to get their rights by using the laws and peaceful negotiations, and through their proper words create the magical stick and relentlessly try to bring smile on the lips of our people and families.
Update:
As promised by the company, today Saturday December 10th, the overdue wages of the workers for the months of July and August were paid, and the workers went back to work. However, it seems that the office staff, technical and administration staff, did not get paid for the month of August.
Reporter: Vartan Khorramdin, member of the Union of the Metalworkers and Mechanics of Iran