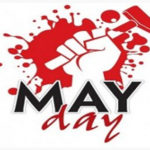 Dear Comrades of IndustriALL Global Union
On the eve of May Day, the International Workers Day, the Union of Metalworkers and Mechanics of Iran (UMMI) once again salutes you, and through you all the affiliates and members of great IndustriALL Global Union.  We wish you all vital successes in your ongoing struggle for fair wages and salaries, for secure employment, for trade union rights and for more secure, safe and humane working conditions across the world.
In Iran the workers across industries and various sectors of the economy have waged a consistent and brave struggle to demand their rights including due wages, end to privatisation, trade union rights and implementation of international ILO standards that Iran is a signatory to and is obliged to do so.
The UMMI has continued its difficult but consistent and rewarding work to ensure that it effectively represents the interests of our sector and that our organisation has the capacity to campaign effectively on the key issues of concern to workers in Iran.  Amongst these concerns at present are peace, jobs, wages and trade union rights.
We thank you for working with us and assisting us in the important but difficult tasks we have set ourselves.  We are confident of success.
Long Live May Day!
Long Live International Solidarity!
The Union of Metalworkers and Mechanics of Iran
29th April 2019