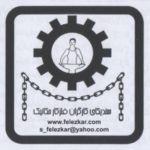 Dismissal of 300 workers from Bahavand Barad Contracting HR Company, and the implementation of the "Occupational Classification Plan", favoured by Hatami HR Contractors, has led to protests by the workers and the trade unionists at Chadormalu Mine.
The right to work is a human right and standards of working conditions must be observed by employers and the Ministry of Labour. Neglecting and ignoring the workers' demands by the provincial authorities and the labour department officials have endangered the livelihood of 300 workers and their families who have been struggling with unemployment and hunger since 25 January 2020.
in Yazd, the provincial and labour department officials, hand in hand with the anti-worker employer, do not tolerate the workers right to establish their independent trade unions because they intend to impose illegal requests on workers.
Elsewhere in the Chadormalu mine, the job classification plan is being imposed on 300 Hatami contract workers and the Labour Department, yet again, ignores this cruelty. Workers say, "Why should the benefits offered to us contracting workers be less than those offered to formally employed workers at Chadormalu Mine"? According to Articles 19 and 20 of the Constitution, all Iranians are equal before the law.
What justification do the town's officials have to take sides with the contracting HR employers of the Chadormalu? Who benefits from this injustice?
The Union of Metalworkers and Mechanics of Iran (UMMI) defends the legitimate and human rights of its working brothers and sisters in the Chadormalu mine and will do its utmost for their success.
The Union of Metalworkers and Mechanics of Iran (UMMI)
28 January 2020