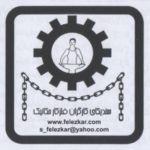 Dear Dr Rouhani,
To comply with the current health issues, we are publishing this letter in cyberspace and we hope that observing the following will keep us from taking any further action.
As you are also aware, the coronavirus disease and its prevention has become a national issue of vital importance to the Iranian people and we are hence informing you that unfortunately no preventative measures have been implemented in any of the centres of oil and gas projects especially in the South of the country. In car manufacturing plants in the capital of our country, for example, these preventive measures are incomplete. To this end, we are asking you to order both Departments of Labour and Industry to carry out the following tasks and the Department of Health to control their implementation:
Install contactless attendance controllers in all industrial and manufacturing centres
Disinfect all parts of manufacturing centres as well as workers on arrival
All guards stationed at entrances of factories and industrial towns to be equipped with contactless thermometers to readily measure the body temperature of workers on arrival and departure.
Employers to be ordered and obliged to provide all employers, workers and other staff, with disposable masks and gloves.
Regularly disinfect all bathrooms and washrooms in all production units, especially in oil project centres and contracting companies.
Issue mandates to occupational health and safety officers to make health surveillance in all production units
Reduce working hours for workers to provide time to take preventive health measures
Strictly control the hygiene in all factories' canteens
Issue mandates for obligatory visits by both Departments of Labour and Health Inspectors to visit factories, workshops and other industrial and construction projects.
Given that the Union of Metal Workers and Mechanics of Iran (UMMI) has repeatedly written to the so-called workers' representatives in the parliament, informing them of the unlawful insanitary practices of employers and that they ignored these letters and supported the employers' inhumane conditions, we were forced to write to (26 June) and meet with (1 July) Pars Oil and Gas Company (POGC) to address the illegal, inhumane and unsanitary conditions of their subsidiary plants. We have also sent two letters to the managers of Pars Special Economic Energy Zone and we have reported the unsanitary and illegal conditions of each subsidiary detailing their name and nature of the violation but have not yet received a reply. You can refer to our letters and our website for further information on these violations.
Failure to comply with the aforementioned health requirements stated in this letter is a matter of life and death for the workers and their families and we declare to you, as the highest legal authority that, in the event of non-compliance with the above and any subsequent damage to workers' lives, we will enforce legal proceedings against the Departments of Labour, Industry and Health.
Union of Metal Workers and Mechanics of Iran
29 February 2020