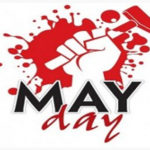 To the Confederation of Progressive Trade Unions of Turkey (DİSK) and
the United Metalworkers' Union (Birleşik Metal-İŞ)
 On the occasion of May Day 2020, the Union of Metalworkers and Mechanics of Iran (UMMI) would like to convey its greetings and best wishes to our comrades in the Confederation of Progressive Trade Unions of Turkey (DİSK) and the United Metalworkers' Union (Birleşik Metal-İŞ) for the success of their decisive struggle for the realisation of the demands of the workers of Turkey. 
Dear comrades, the world is facing a new and great challenge in the Coronavirus pandemic, which has unfortunately overwhelmed both our dear homeland and yours.  Capitalism and neoliberalism have demonstrated that they are incapable of fighting this disease, just as they are incapable of addressing any of their existential crises. Up to now, the disease has claimed at least 10,000 lives in Iran and Turkey, mostly from amongst the poor and the elderly – especially those who have no money to pay for medical treatment.  What you have mentioned in your recent research on the prevalence of the disease in factories, and the sickness of workers and their families, also applies to what we have witnessed in our country as well.
At the same time as paying homage to your struggles, and wishing all the people of the world good health on this momentous day, we express our solidarity with your campaigns and call for the unity of our movements in the service of improving the health and wellbeing of our peoples.
Yours in comradeship,
Union of Metalworkers and Mechanics' of Iran
30 April 2020