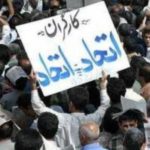 The campaign continues and is victorious!
Today, October 17th, in the process of following up on the contractors' violations, a meeting was held with the officials of the oil company with the presence of Maziar Gilani Nejad, the representative of 2000 project workers. In this meeting, the names of several offender contractors were presented to these officials in detail.
In this regard, the officials of the Ministry of Oil stated: "All those who are working in oil and gas projects and are late in paying their salaries, mentioning details such as the exact name of the project and the name of the contractor and his phone number along with the name and number Collect the complainant's phone and bring it to us. "In addition, they should send the necessary information to Mr. Gilani Nejad about the unfavorable welfare situation, such as food, accommodation, transportation service, health services and baths, so that they can be dealt with immediately."
We ask our friends to cooperate in this regard so that we can prevent anti_labor to get advantages from the projects.
Worker United Worker