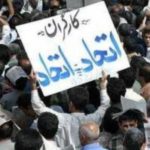 The campaign is successful!
Today, October 16th, 120 days have passed since the fierce struggle of the 10/20 campaign. 120 days when contractors did not hesitate to force workers to surrender, get fired, take hostage their wages, insult, blacklist, threaten. But the workers have shown that they have realized the power of their alliance and will no longer simply hand over their family fate to the predatory employers. During these 120 days, they did not give up all the possibilities of protest, including correspondence with MPs, the Minister of Oil and the Minister of Labor, to gather in their city, as well as appearing in front of the parliament and the oil company and negotiating with oil company officials. Collecting 2,000 signatures with Kadmeli, they elected Maziar Gilani Nejad as their representative to negotiate with the officials of the Oil Company and the Ministry of Labor. Today, we are pleased that a large number of workers have been employed in contracting companies, including Falatghareh, Payendan, Phase 14, Abadan Refinery, Bidboland Refinery, and more than 70 small contractors with approximately 10/10 campaign conditions. Although we know that there are still unscrupulous contractors who have refused to increase their workers' wages and leave, the struggle is still going on.
According to Payam-e-Syndika reporters, Sazpad Company located in Arak Machine-Building Company, unlike other companies located in Arak Machine-Building Company, which have complied with most of the conditions of 10/20, still has this contract and has set 8/22 for its workers. They also provided one assistance to 3 welders and did not pay the salary of 5th month. These workers have asked the Khuzestan Metal-Mechanical Workers' Union for help and demand that the contractor's violation be investigated.
Worker United Worker