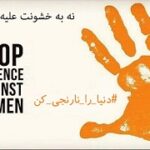 On November 25, women around the world raise their voice against the violence perpetrated by capitalist society, and consequently the family, the workplace, and education institutions, in a nationwide protest this gender injustice and c all for an immediate end to it.  All over the world, women suffer from verbal, behavioral, domestic, ethnic and, most brutally, systematic class violence prevalent in society.  This systematic violence is based on injustice in equal pay for men, discrimination in job positions, and the imposition of hard domestic work at home and the promotion of the second sex.
Unfortunately, in our country, child marriage and worse, due to financial and cultural poverty in Iranian Baluchistan and Afghanistan, the sale of girls and women as slaves has become unprecedented.  The global neoliberal system seeks to isolate human beings, especially women, through individualism and then sell them as commodity in modern European and American countries, as models, promoters of cigarettes, alcoholic drinks, and spread of nudity and turning them all into sex objects.  To take women away from their human nature and turn them into consumer goods disposable after consumption.
Working women, especially the young girls, in our country not only receive very low wages, sometimes one third of the minimum wage, but are also exposed to sexual and physical violence, The death of Marzieh Taherian, a worker in a spinning mill factory in Semnan, was an insult to women and humanity.  21-year-old Marzieh lost her life due to her scarf getting stuck in the machine because her employer's profiteering for not installing safety resulted in her death.
The efforts of women in our country in the fields of science, society, politics, sports and even the family to eliminate this discrimination and public violence are commendable.  Let us, hand in hand with our mothers, wives, sisters, daughters, remove this inhuman effort of the neoliberal capitalist system from the face of the family, the workplace, society.  This can be done if we want.
We greet the women fighting this way Sepideh Gholyan, Narges Mohammadi, Nasrin Sotoudeh, Alieh Eghdamdoost ….
Congratulations on making women proud and prove that women are no less than men.
Union of Metalworkers and Mechanics of Iran
Pensioners of the Needle Knitting Syndicate
Metalworkers Pensioners
Printing industry Pensioners
Shahab Khodro Pensioners
Independent Pensioners of Qazvin
24 November 2021