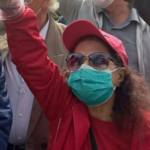 We have learned that friend of workers, Alieh Eghdaam-doost, has been arrested in her hometown of Fooman. Regardless of the reason for the arrest of this hard-working woman in her old age, she is reminiscent of a generation that still stands firm by her beliefs and strive for them.
For many years, Alieh Eghdaam-doost has become a familiar name for project workers. Her efforts for the working class, both in the retired/ pensioner sections and in the actual working members sections, are commendable. She has been a colleague amongst the project workers for many years, and workers have benefited from her advice, both in the field of training sessions on how to deal with the labour law and also in the field of managing the psychological well-being of workers in times of crisis.
Her arrest is a sign of systemic intolerance of people who value their society and will never give up promoting it.
The Union of Metalworkers and Mechanics of Iran condemns the arrest of Aaliyeh Eghdaam-doost and will hesitate undertaking all actions to protect her.
Union of Metalworkers and Mechanics of Iran (UMMI)
United pensioners
16 November 2021